Implementation

---
The MEMO project is established to settle the basis of molecule mechanical complex machinery using the collective movement of single molecule-gears and molecule flip-flops. All steps of molecule mechanical transmission are investigated, from molecule-gears to nanofabricated solid state nano-gears using the motive power of single molecule-motors. MEMO is organized in five work packages (WP).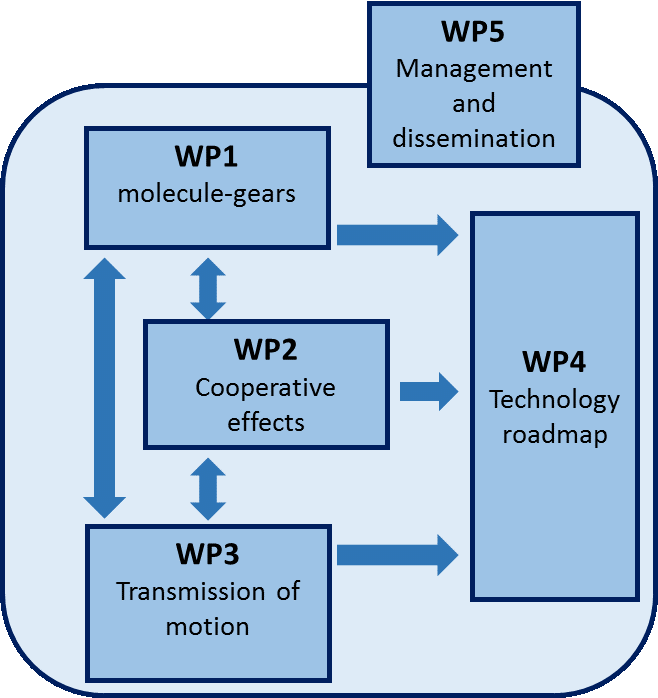 ---
WP1: MOLECULE GEARS.
Design, chemical synthesis, deposition, and assembly of molecule-gears of increasing diameters starting from the smallest known single molecule-gear of diameter Ø~1.2 nm.
WP2: COOPERATIVE EFFECTS.
Determination of the motive power of a molecule-motor when rotating a load. This is fundamental for driving a train of molecule-gears or a solid state nano-gear (WP3) as well as for constructing nanoscale mechanical computing machines (WP4).
WP3: TRANSMISSION OF MOTION.
Transmission of motion along a train of molecule-gears and a chain of molecular flip-flops. Transmission of motion between a molecule-gear and a solid state nano-gear.
WP4: TECHNOLOGY ROADMAP.
Determination of the technology nodes needed to design a realistic nanoscale molecular mechanical calculator. This roadmap will be explored node after node starting from the mm down to the molecular scale.
WP5: MANAGEMENT AND DISSEMINATION.
Organization of MEMO, its scientific coordination, administrative management, and dissemination strategies.